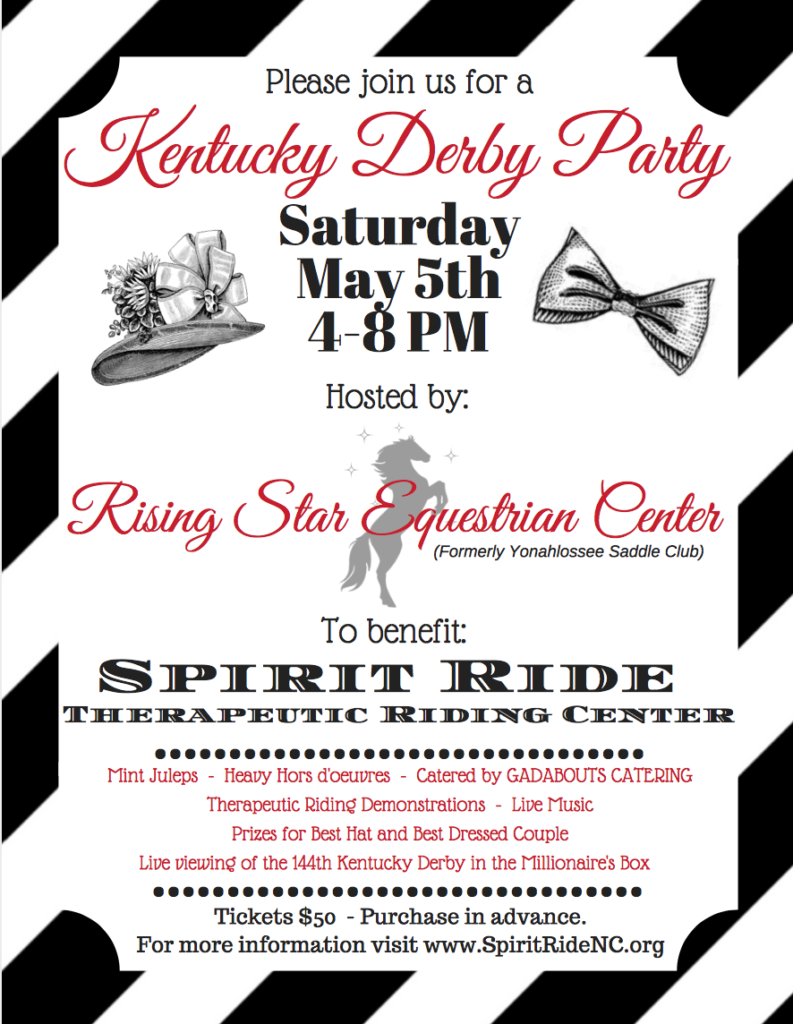 This is huge and exciting news!!  Dawn Muse of Rising Star Equestrian Center and Eileen Gaddy of Gadabouts Catering will be hosting the very first fundraiser for Spirit Ride Therapeutic Riding Center.  The event, to be held on May 5th, 2018 from 4 to 8 pm, will be a Kentucky Derby party with everything 'Derby' one can imagine…Big Fancy Hats…Bow Ties…Mint Juleps…Live Music…and of course – the viewing of the 144th Run for the Roses! Patty Adams, Executive Director of Spirit Ride, shares, "We have waited for the perfect event, time and place to hold our first fundraiser and this opportunity has definitely been worth the wait." Adams continues, "Rising Star is a beautiful facility and Gadabouts is planning some of the best 'Derby Delectibles' you'll ever taste!".
The "First Annual Kentucky Derby Fundraiser" will be held at Rising Star Equestrian Center off Poplar Grove Road in Boone.  Formerly known as the Yohnalassee Saddle Club, the Equestrian Center has been given new life by local owners, Dennis and Dawn Muse.  The Muse's two youngest daughters have been competitive equestrians for a number of years. Dennis shared that "Fate worked out that we ended up getting this barn, and to see my two daughters beam with smiles when they're on the back of a horse makes it all worthwhile."  The girls did some volunteer work for Spirit Ride and the Muse family felt that it was a good fit as a benefactor for a fundraising event at Rising Star.
Eileen Gaddy, co-owner of Gadabouts Catering Company, has seen how beneficial Therapeutic Riding can be.  Prior to opening her widely successful catering business, Eileen was involved in social work.  The need to help young people never went away and Eileen spends time each week with a young man who has been diagnosed with an Autism Spectrum Disorder.  Gaddy picks him up from school and takes him to weekly Therapeutic Riding lessons at Spirit Ride.  She has personally witnessed his growth in overcoming obstacles and finding methods that allow him to push through walls to find his joy.  Eileen met Craig and Patty Adams of Spirit Ride while catering their son's wedding which was held on the Spirit Ride campus in Banner Elk a few years back.  Little did they know at the time that their paths would cross again in such a meaningful way.
One of the many activities planned for the fundraiser will be a Therapeutic Riding Demonstration given by Patty Adams.  This will allow attendees to see first hand how impactful this alternative therapy can be.
Spirit Ride Therapeutic Riding Center is a 501(c)3 charity organization whose mission is dedicated to providing children with special needs the opportunity to learn, grow and strive to become their ideal selves through equine related therapeutic and educational activities.  Spirit Ride utilizes principals of Therapeutic Riding (TR) as well as Equine Facilitated Learning (EFL) to achieve goals set by the child's Therapy Team (educators, therapists and parents). This approach aids the rider in many ways. In a natural environment, TR/EFL is an organic combination of speech, physical and relationship-building therapy. This helps build a variety of skills:

Balance & coordination
Flexibility & core muscle strength
Sequencing
Speech & communication
Self-esteem & self-confidence
Self-awareness
Socialization

Not only does the therapeutic process help clients to have the skills, confidence, independence, and ability to thrive in their academic, communicative and social development, it also promotes physical health and well-being.
For more information on attending the Kentucky Derby Fundraiser, or to learn more about Spirit Ride, please visit their website at www.SpiritRideNC.org  Tickets for this event will be available online at https://SpiritRideDerby.eventbrite.com
SaveSave
SaveSave
SaveSave