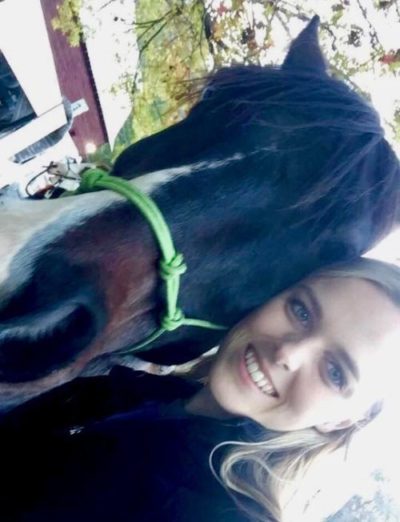 Let's meet, Katie Wallace, this week's "Spirit Spotlight"!  Katie transferred to ASU from the University of North Carolina Wilmington.  Helping others has always been important to Katie, so taking part in volunteer opportunities while at college has been a natural way for her to become more involved in campus and community life.  She is currently a junior, majoring in Communication Sciences and Disorders and plans on going on to grad school for Speech Pathology.
Katie has many years of 'spirit' experience…she cheered from the time she was in the fourth grade until she was a senior in high school.  Being a member of the cheer squad taught her how to be positive, set goals, and work hard for what was important to her.  Cheering also gave Katie a chance to work with children. She helped coach her sister's elementary school cheer team and was one of the camp counselors at her high school's annual cheer and dance camp for children in grades K-5.
Katie had no horse experience when she arrived on the Spirit Ride campus for the first time. But that didn't stop her from jumping right in and doing whatever was asked of her.  She is the perfect example of the, 'you get out of it what you put into it' attitude.  She has particularly enjoyed being able to grow along-side her riders in the area of horsemanship.  She feels like that has actually given her the advantage to be able to connect with the children on a more personal level.
A favorite part of each lesson is that moment when the horse and rider greet each other at the beginning of each lesson.  It's clear that each horse and rider have a unique bond through carefully facilitated care and connection. Katie shares that she feels privileged to be able to witness the "…sweet moments when the riders reach down to hug their horse…their happiness makes me happy!"
When asked what she would tell someone who may be considering becoming involved at Spirit Ride she says emphatically, "Do it! Everyone is so warm and welcoming. It very quickly stops feeling like work and turns into a total joy when you get to see the smiles of the families that come to us for therapy. You not only get to see the children's growth throughout the 6-week sessions, but you also notice growth in yourself.
I came here hoping to find friends, little did I know I was going to find a family away from home! Being a volunteer didn't feel like work, everyone treated everyone the same, no matter the level of experience they have around horses." Katie continues, "For families considering sending their child to a therapeutic riding center, Spirit Ride is that, but so much more.  Yes, it is therapy for the child, but, in a way, it is therapy for the whole family.  Everyone gets to be involved in the lessons, allowing for everyone to grow together!"
Katie believes that all of us face challenges in life and she wants to be there to help others face their own. She shares, "Being a volunteer and a part of the SRTC family has taught me that no matter the challenges we face in life, there is happiness and light around every corner."  This belief, combined with her positive attitude and dedicated work ethic, makes her invaluable to the Spirit Ride team.
THANK YOU, Katie, for sharing your light with everyone around you and for helping to make Spirit Ride such a strong and effective Therapeutic Riding Center!
SaveSave
SaveSave
SaveSave
SaveSave
SaveSave
SaveSave
SaveSave