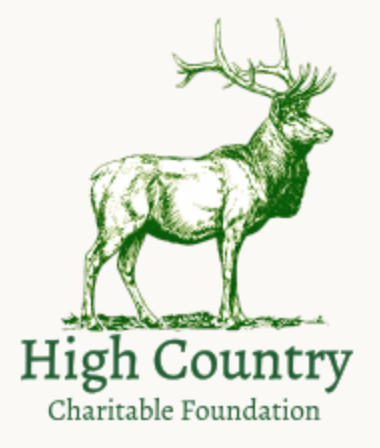 We are excited beyond words by the support we received from the High Country Charitable Foundation at yesterday's Grant Recipient Awards Presentation.  The HCCF is a 501(c)3 nonprofit organization with a vision to help the Avery County, NC community. Conceived by a small group of residents who recognized the importance of giving back to the community, this organization supports local public charities and other private foundations.  They are committed to being involved in the community, operating with integrity and excellence, and providing value to their contributors by distributing every dollar raised to local agencies who serve those in need.  To have been selected as a grant recipient by such a worthy organization is an honor and we are proud to represent their values in our daily work.
Spirit Ride Therapeutic Riding Center Chairman, Craig Adams, and Board Member, Caila Hall, represented SRTC at the awards presentation held in the Canon Memorial Medical Center's lobby this past Tuesday afternoon.  Adams states, "We are honored to be named among such worthy recipients and sincerely appreciate this support.  As a direct result of this generous donation, our riders will be able to continue to reach their goals and families to enjoy time out of their week at Spirit Ride."
Spirit Ride offers Therapeutic Riding services FREE of charge to children with special needs. One of our core beliefs is that any child who could benefit from Equine Facilitated Learning and/or Therapeutic Riding should have that opportunity, regardless of means. The High Country Charitable Foundation grant will cover the costs required to provide these services to three Avery County families for three consecutive sessions: Spring, Summer, and Fall.
Our sincerest thanks to the High Country Charitable Foundation for giving so generously to our community – you are making a difference!
SaveSaveSaveSaveSaveSave
SaveSaveSaveSave